There are many reasons why anyone would want to see the movie, The Phantom of the Opera, again and again, and it is not just because of the classic storyline or the beautifully sang operas of the protagonist. You would be intrigued by the spectacular costumes therein, one of which is the white Christine Daae costume that looks always elegant.

Christine Daae's white dress is inspired by the style of Spanish folklore. Unique Christine Daae costume has been sampled since the beginning of the twentieth century by many stage and motion picture artists, brides, and Halloween party-goers. Most often than not, it makes for beautiful wedding gowns, and the designs take the form of that made by Phantom for Christine.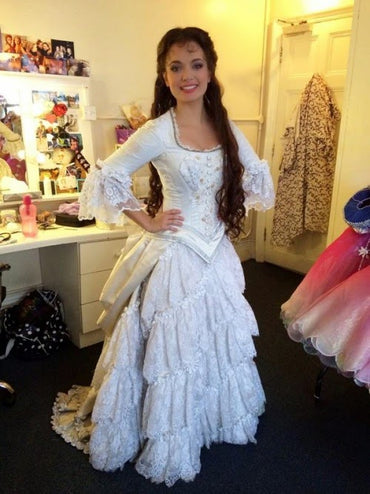 Here the Christine Daae costume white dress is. https://www.cosplayrr.com/collections/movie/products/christine-daae-hannibal-costume-white-dress-plus-size
Christine Daae costume is designed with a white brocade stomacher with white and dove white lace that trims the sleeve cuffs and the opening around the neckline and the train. The dress features a fine, off-shoulder neckline with three-quartered trumpet sleeves, a wide waistband, buttons, and a bustle. The bodice has an asymmetrical overlay on the front and drapes around the side and covers the skirt which has ruffles. The waist and neckline are also trimmed with pealed applique trim. The dress wraps from right to left to close with hooks and snaps. The elastic design of the skirt makes one feel comfortable whilst still looking elegant. Plenty of fabric is used in designing this cloth such that there is about 33-inch fabric left about to play with.

Most of the stage productions of Christine Daae are more historically accurate in terms of what would have been used and worn in the last nineteenth century or, in more classic terms, the medieval periods typical of peasant women costume and Victorian dress, so the outfits were not created for sex appeal as was seen in the movie version. However, it is an expensive dress that catches the eyes and is, thus, a great Christine Daae costume to grace a memorable event.

The Christine Daae costume may not be worth the investment for youths, considering that it does not resonate with contemporary sensual fashion culture which may mock the Christine Daae white dress as grumpy in style. But there are special occasions which fit this dress well besides weddings, Halloween parties, and theatrical shows already discussed above. They include renaissance fair or festival, Heritage Days, cosplay, and theme party.

There are very few reviews about Christine Daae costume online, so making a purchase decision of Christine Daae cosplay dress may be difficult. However, it can be purchased from CosplayRR and great reviews abound about the dress for customers to peruse.